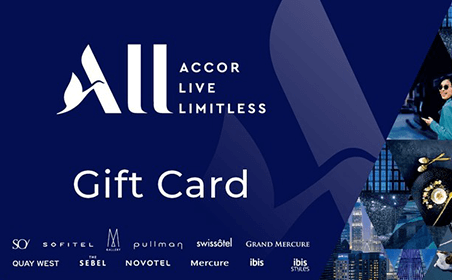 Buy Accor Hotels eGift Card
---
Details
Use FIRST-ORDER-5 to get 5% off your first purchase
We are far more than a worldwide leader. We are more than 260,000 hospitality experts placing people at the heart of what we do and nurturing real passion for service and achievement beyond limits. We take care of millions of guests in our 5,100 addresses.
We embrace the future while continuing to put people, guests, customers and talents at the heart of everything we do.
The Accor Gift Card, gives you the opportunity to Indulge.
REDEMPTION INFORMATION : Please check accorgiftcards.com.au to to confirm that the hotel you would like to stay accepts Accor Gift Cards. For reservations contact the hotel direct or call 1300 65 65 65. On arrival at thehotel please present your gift card to the front desk.
IN STORE INSTRUCTIONS : Booking your accommodation is easy!
Step 1 - View our participating hotels list and select the hotel you wish to stay at. Step 2 - Call the hotel and advise them that you wish to use your Gift Card. Step 3 - Confirm your rate and booking.
Remember to take your physical AccorHotels Gift Card with you and present it to Reception upon check in. The hotel will confirm the value and validity of your card. Please again present your card on check out to make full or part payment on your room account.
https://terms.accor.com.au/giftcards/