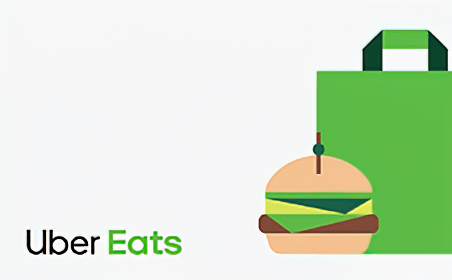 Buy Uber Eats eGift Card
Spend online only.
Valid for 36 months
Uber Eats eGift card details
Give the gift of indulgence with an Uber Eats Gift Card.
Guarenteed to satisfy cravings, an Uber Eats gift card can be used at any participating restaurants & eateries, ordered fresh and delivered straight to your giftees front door.
Treat your giftee to the meal they have been dreaming about right in the comfort of their own home!
Redemption Instructions
To redeem this gift card:
1. Go to the Payment section in the Uber Eats app
2. Tap Add Payment Method and select Gift Card
3. Enter Gift Code
By using this gift card, you accept the following terms and conditions: This gift card will expire three years from the date of activation. Upon expiration, unused funds will not be refunded or credited. This card is redeemable via the Uber or Uber Eats app within Australia in cities where Uber or Uber Eats is available. The card is non-reloadable and cannot be redeemed for cash, refunded, or replaced, except as required by law, including the Australian Consumer Law. No change will be given. You may be required to add a secondary payment method to use this gift card with the Uber or Uber Eats app. Lost or stolen cards will not be refunded or replaced, so treat this card like cash. This card is issued by Uber Pacific Pty Ltd. For full terms and conditions and customer service, visit uber.com/legal/gift-cards/en-au.
FAQ's
An Uber Eats gift card is a prepaid card used to purchase food delivery from the Uber Eats app or website. Once you have purchased a gift card, you can redeem it on the Uber Eats app and use it to pay for your food delivery.
You can purchase an Uber Eats gift card on the Gift Card Exchange website in various denominations and custom amounts. You can buy for yourself or as a gift for delivery via email, SMS or handed over via a printable PDF.
Yes, you can use an Uber Eats gift card to pay for your food delivery order. When you place an order on the app or website, you can select the gift card payment option and enter the card details.
Uber Eats gift cards expire in 3 years, so you can use them anytime to pay for your food delivery. However, in some regions, there may be certain limitations or restrictions on using the card, so it's important to check the terms and conditions.
Uber Eats gift cards are non-refundable and cannot be exchanged for cash. Therefore, once you have purchased a gift card, it cannot be returned or refunded. However, if you have any issues with using the card, you can contact Uber Eats support for assistance.