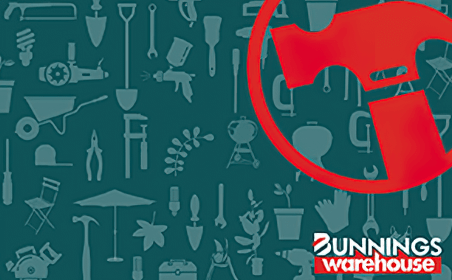 Buy Bunnings eGift Card
Spend in-store only.
Never expires
Bunnings eGift card details
Bunnings Gift cards are redeemable instore only at any Bunnings location across Australia.
Bunnings Warehouse is the ultimate destination for all your home improvement and outdoor living needs.
Bunnings has everything you need from hand and power tools, kitchen and appliances, electrical products, flooring, paint, gardening supplies, plumbing and building supplies. The Bunnings gift card isn't just limited to products, you can also redeem a Bunnings gift card on any in store service.
Gifting someone a Bunnings gift card is giving them aisles full of options to choose from.
The best thing about a Bunnings gift card is that there is no expiry date, the gift card is valid up until purchase, meaning the giftee can take all the time they need to decide on what to get!
If you have trouble scanning the gift card or entering the   barcode information manually, please contact
[email protected]
Use this Gift Card towards any purchase of goods at any Bunnings location in Australia. This Gift card can only be used once. When redeemed, the Gift Card must be relinquished to the cashier. Maximum change given is $9.95. Bunnings is not responsible for lost, stolen or damaged cards. This Gift Card is not a credit card or debit card. This card is not redeemable for cash. Only valid if purchased from Bunnings. No expiry date.
FAQ's
Bunnings Gift Cards are available for purchase through various channels, including in-store and online. Online purchases offer the advantage of convenience and quicker processing time. The gift cards can be delivered via SMS or email, or customers can buy a printable PDF template, which allows for a physical presentation to the recipient. The service can be facilitated through the website or by contacting a dedicated account manager for corporate customers seeking to purchase bulk gift cards.
Bunnings Gift Cards are designed to offer a flexible and convenient gifting option, as they do not have an expiration date and are honoured by the company indefinitely. It is important to note that these gift cards are considered a form of cash but can only be redeemed at Bunnings stores. In the event of a purchase where the value of the gift card is less than the cost of goods, the residual amount will be provided in cash.
Bunnings Gift Cards are the only cards that can be used in-store at any Bunnings location in Australia and online.
Bunnings Gift Cards can be used to purchase any goods at any Bunnings store online. A Bunnings gift card must be presented to the cashier in exchange for goods. You can present your gift card using your gift card exchange wallet at the checkout. Any residual purchase amounts will be given back in cash. It's important to handle the gift card with care, as Bunnings is not responsible for any loss, theft, or damage to the card.
Yes. A gift card is considered cash redeemable at any Bunnings store or online.