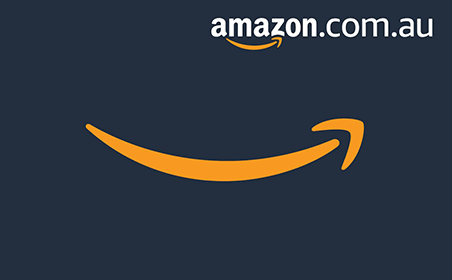 Buy Amazon eGift Card
Spend online only.
Never expires
Amazon eGift card details
An Amazon Gift Card is the ultimate gift, it allows your giftee the option to choose from the millions of items being sold on amazon.com.au. 
The recipient of this gift card can use it to purchase anything from fashion, appliances, household items, electronics, music and much more. 
An amazon.com.au Gift Card is the solution to wanting to give someone a gift, but not knowing what to get them. 
An Amazon Gift card allows your giftee to choose exactly what they are wanting, with out you needing to know what that is in the first place. 
Forget about spending hours figuring out what to get and whether your giftee will like it. 
Purchase an amazon.com.au Gift Card from Gift Card exchange, and your recipient will receive a digital card instantly. 
Think about all the time you will save and the peace this will bring knowing your giftee are getting something they will actually love.
This Gift Card can only be used to purchase eligible goods and services available on amazon.com.au, and cannot be used on Amazon websites in other countries. For complete T&Cs, please visit - amazon.com.au