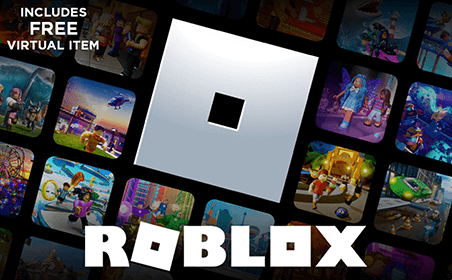 Buy Roblox eGift Card
---
Details
Use FIRST-ORDER-5 to get 5% off your first purchase
Not sure what gift to get the gaming fan in your life? Gift them a Roblox Gift Card from Gift Card Exchange!
Are you ready to level up your Roblox experience? A Roblox Gift Card can be used to purchase the in-game virtual currency of Roblox, to get awesome additional in-game content and perks, or to upgrade your avatar with cool items to make them unique. You can also double the fun by redeeming your card for a Premium subscription. 
Why get a Roblox gift card? 
- It is the ultimate gift for any Roblox fan
- You get an exclusive virtual item with a purchase of a card
- You can access new perks, levels, and more in your favourite Roblox games
- Discover millions of free games on Roblox and play with friends on your computer, phone, tablet, Xbox One console, Oculus Rift, or HTC Vive. 
Roblox is a global platform that brings people together through play. It enables anyone to imagine, create, and have fun with friends as they explore millions of interactive 3D experiences produced by independent developers and creators.
Give the gift of play with a Roblox Gift Card from Gift Card Exchange.
Redemption Instructions
1. Go to www.roblox.com/redeem
2. Log in or create an account
3. Find your PIN and enter it on the website
4. Spend your credit on Roblox and more!
This card may only be redeemed at www.roblox.com for Roblox credits, which may only be used to obtain certain products and services at www.roblox.com.
Availability and pricing of products and services is subject to change and age restrictions may apply. To redeem this card and use Roblox credits, you must have Internet access, register for a Roblox account, and accept the Roblox Terms of Use. No partial redemption is permitted. This card is not redeemable for cash or credit, except as and where required by law. Resale is strictly prohibited.
Roblox is not responsible if this card is used without your permission or if it is lost, stolen, damaged, or destroyed. A card obtained by fraud will not be honoured. For minimum system requirements and more information, including how to determine the balance of your gift card, please visit www.roblox.com or contact us at www.roblox.com/support. 
©2020 Roblox Corporation. All rights reserved. All trademarks shown are property of Roblox Corporation. All rights reserved.