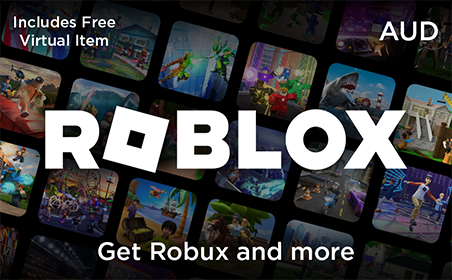 Buy Roblox eGift Card - Australia Only
Spend online only.
Never expires
Roblox eGift card details
Get even more out of Roblox.
Deck out your avatar and unlock additional perks in your favorite experiences when you use Roblox Gift Cards to purchase Robux (Roblox's virtual currency).
Or get exclusive access to virtual items, a monthly Robux stipend, and more by redeeming your gift card for a Roblox Premium subscription.
Get a free virtual item with the redemption of a Roblox Gift Card Digital Code.
Roblox is a global platform where every day millions of people come together to explore, chat, and hang out in millions of immersive 3D experiences created by the community.
Redemption Instructions
Go to roblox.com/redeem from your browser  
Log in or create an account
Find your PIN and enter it on the website
Spend your credit on Robux or a Roblox Premium subscription
By purchasing, accepting or redeeming this card, you agree to these terms and conditions and the Roblox Terms of Use (available at www.roblox.com/termsofuse), which are both subject to change. 
This card may only be redeemed at www.roblox.com for Roblox credits, which may only be used to purchase Robux or a Roblox Premium Subscription (availability and pricing are subject to change — see https://www.roblox.com/upgrades/robux).
This card is not refundable or redeemable for cash, except as required by law. 
This card has no expiration date.
To redeem this card and use Roblox credits, you must be over 18 years old or obtain consent from a parent or guardian, have Internet access, register for a Roblox account, and accept the Roblox Terms of Use or have your parent or guardian accept them if you are under 18 years old. Resale is prohibited.
Roblox is not responsible if this card is used without your permission or if it is lost, stolen or damaged.
This card is issued by and represents an obligation solely of Roblox Prepaid Company, LLC. For complete terms and conditions, which are subject to change, please visit www.roblox.com/giftcardterms.
©2023 Roblox Corporation. All rights reserved.
FAQ's
A Roblox gift card gives you the equivalent value of the currency you spend on the gift card, in the in-game virtual currency Robux.
Yes, any Roblox gift card you purchase off Gift Card Exchange will be able to be redeemed to the equivalent in Robux from AUD. A $10 Roblox gift card in Australia, for example, should give you approximately 800 Robux.
There are two types of Roblox gift cards, physical and electronic. We at Gift Card Exchange sell only electronic gift cards.
A Roblox gift card sells from $10 to $200. If you need a higher denomination, buy multiple Roblox gift cards. You can buy multiple gift cards easily on Gift Card Exchange.
Roblox gift cards do not expire. They can only be spent online with a Roblox Account and can be redeemed for Robux.