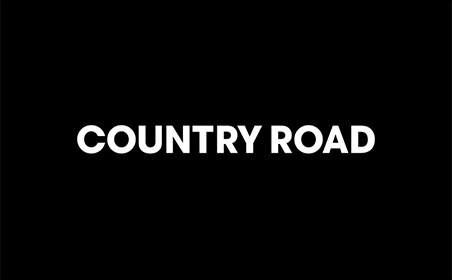 Buy Country Road eGift Card
Spend in-store or online
Valid for 36 months
Country Road eGift card details
Inspiring a modern Australian lifestyle is at the heart of everything we do, this makes a Country Road Gift Card the perfect Gift.
We are here for every moment, and our philosophy is simple: we design beautiful products that are made to last.
Their premium fabrics and quality craftsmanship inform every design across Woman, Man, Child and Home.
We are Country Road and we invite you to come join us.
Country Road Gift Cards can be used in-store and online.
REDEMPTION INFORMATION : All product on our website is able to be purchased using gift cards
IN STORE INSTRUCTIONS : For in store purchases print out the eGift Card and take it into any of our stores.
ON LINE INSTRUCTIONS : For online purchases simply enter the card number and PIN number displayed on the eGift Card.
Present this e-gift to any participating Country road store or use online at www.countryroad.com.au You can select any number of gifts of the value of the e-gift, or above the value – in which case you need to make up the difference. It is valid for 36 months from date of issue. Cards issued prior to 31st March 2018 are valid for 12 months from date of issue. This e-gift is partially redeemable. Within the card's validity period, any available balance can be used for multiple purchases at any participating store. However, any unused balance will not be refunded or credited on expiry. For more information visit www.countryroad.com.au or for assistance with your e-gift call the help Desk on 1800 801 911.