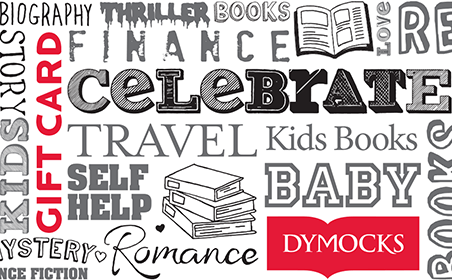 Buy Dymocks eGift Card
Spend in-store or online
Valid for 36 months
Dymocks eGift card details
As Australia's leading bookseller Dymocks prides itself on meeting the leisure, learning and gift needs of all booklovers.
Dymocks gift cards are the perfect present for any bookworm. From new releases, childrens books, bestselling authors and eBooks, you can find just what your friend or family needs at Dymocks.
Redeemable across all 65 Stores in Australia and online.
So, what are you waiting for? Buy now and a digital card will be sent to your recipient's wallet via email or text message for instant use.
IN STORE INSTRUCTIONS : To redeem, print this virtual gift card or display on your mobile phone and present at the register.
REDEMPTION INFORMATION : In store and online.
ON LINE INSTRUCTIONS : Please use your virtual Gift Card by going to www.dymocks.com.au. Enter in the virtual Gift Card ID followed by the Expiry Date when making a purchase.
TERMS AND CONDITIONS OF USE. Treat this eGift Card like cash. Lost or stolen eGift Cards will not be replaced or refunded. Not redeemable for cash and cannot be exchanged. This ecard will expire 36 months from the issue date. Cards issued prior to the 31st March 2018 will expire 12 months after date of issue. Any unused amount after the expiry date of this card will not be refunded or credited. eGift Cards are not reloadable. The store is not obliged to accept the use of this ecard on a sale of under $5. Any unused amount after the expiry date of this card will not be refunded or credited. This eGift Card can only be redeemed at participating Dymocks stores in Australia or online at www.dymocks.com.au/giftcards
For card balance or customer service visit www.dymocks.com.au/giftcards or call 1300 554 268