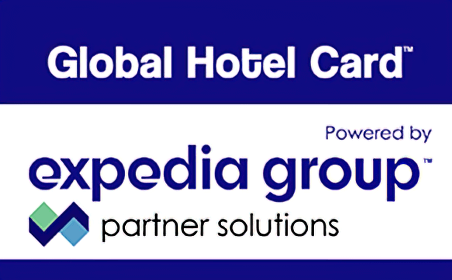 Buy Global Hotel Card eGift Card
Spend online only.
Valid for 36 months
Global Hotel Card eGift card details
The Global Hotel Card powered by Expedia is the premier gift card of choice worldwide for hotels, vacation rentals, villas, private homes, resorts, Bed & Breakfast and more. There are over 250,000 hotels and alternative accommodation options to choose from, including all the major hotel brands, resorts and travel destinations.
The Hotel inventory on the website is supplied by Expedia Affiliate Network a division within the Expedia, Inc. Group, one of the worlds largest travel companies, and trademarks are the property of EAN Worldwide, LLC and are used by license. Book at www.GlobalHotelCard.com Powered by Expedia where prices are the most competitive online!
Give the gift of travel and experiences with a Global Hotel Card gift card from Gift Card Exchange.
Redemption Instructions
1. Search and book your hotel @ www.GlobalHotelCard.com.
2. Choose the currency that matches your Gift Card currency.
3. Apply the 19-digit Gift Card Code (and 4-digit Pin) value as full or partial payment of the hotel reservation. Any balance due may be paid with a credit card.
4. You may combine up to four gift cards per reservation. Simply apply the value of your gift card toward full or partial payment of the hotel reservation. The balance may be paid with a major credit card.
5. Your reservations will be confirmed by email directly from Global Hotel Card and the hotel's central reservation system.
6. Enjoy your stay!
Terms and Conditions
Things to Know:
• Global Hotel Cards are Powered by Expedia and can only be used and redeemed only for hotel reservations made online through the GlobalHotelCard.com website (in currency of gift card issued), not redeemable at Expedia.com. Hotel availability is not guaranteed.
• If the hotel reservation price is less than the value of the card(s), the remaining portion will be available for a future reservation. If the reservation price is greater than the value of the card(s), the difference must be paid with a credit card at the time of booking. All reservations require a major credit card to complete the reservation. Must be 18 years of age or older. Up to four (4) cards may be redeemed per reservation.
• You may cancel your reservation with no penalty IF the cancellation is done online at www.GlobalHotelCard.com and is within the rules of the HOTEL's cancellation policy. The value of your Gift Card and payment on your credit card will be reinstated within 5-7 business days of confirmation that the reservation was cancelled within the rules of the hotel's policy. Please cancel online only and not direct with hotel.
• If you need assistance regarding using Global Hotel Cards to make a booking or other issues, please email us at
[email protected]
and provide as much detail as possible to help us better serve you. You may also use the green Help tool at the bottom of the page. You may also check your balance on the website. Please provide as much detail as possible for us to better serve you. If you need help with same day reservations and are already in route please call (888) 284-7125. For customers outside the US, please call 1-404-728-8787. International calling rates will apply.
RULES & RESTRICTIONS
The Global Hotel Card Powered by Expedia may be used toward hotel reservations made online only through www.GlobalHotelCard.com website (in currency of gift card issued), not valid for redemptions at Expedia.com. Reservations made are subject to the terms and conditions of GlobalHotelCard.com. Please note that once your reservation has been made, the details such as hotel, date of stay, length of stay, may not be changed. Gift cards are not credit or debit cards, and have no implied warranties. Hotel Gift Cards are redeemable for room reservations and taxes only. The total price of your reservation is not guaranteed until the booking is confirmed. Gift Cards will not be redeemed or exchanged for cash, check or credit, except where required by law. Global Hotel Card, Inc. does not replace lost, stolen, or damaged Gift Cards. If the hotel reservation price is greater than the value of the Gift Card, the difference must be paid with a major credit card at the time of booking. This Card is issued by Global Hotel Card, Inc., which reserves the right to change any of these terms and conditions from time to time, without notice. $US Gift Cards do not expire. Non-$US gift Cards may expire. See individual card terms for expiration dates. Hotel Reservations may not be changed. You may cancel your reservation however there may be a cancellation/penalty fee. Please carefully review the terms of the booking before you make the reservation. All cancellations must be made online only at www.GlobalHotelCard.com