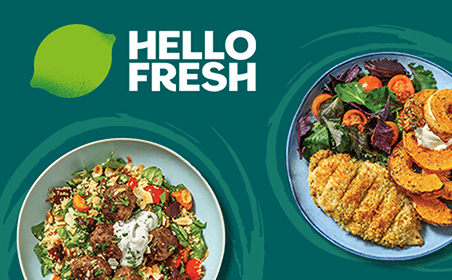 Buy HelloFresh eGift Card
Spend online only.
Valid for 36 months
HelloFresh eGift card details
Prepare for a taste sensation that'll leave your loved ones grinning like a Cheshire cat. The HelloFresh Gift Card is the thoughtful present that keeps on giving. With over 30 weekly recipes at their fingertips, they'll embark on a culinary journey that'll make their taste buds do a victory dance. From Classic Favorite's to Vegetarian, Plant-based, Calorie & Carb Smart, and Quick and Easy options, HelloFresh has them covered. And guess what? They'll be saving the world one plate at a time! HelloFresh ensures just the right amount of ingredients, so nothing goes to waste. Give them the gift that's as delicious as it is clever. The HelloFresh Gift Card—serving up culinary joy with a side of smiles. Now that's a recipe for success!
Head to hellofresh.com.au or the HelloFresh app.
Create an account (or log in if you are an existing customer).
Select a meal plan and choose your recipes.
Enter the unique code at checkout.
Should the full amount not be redeemed at one order, the remaining amount will apply onto your account for further orders.
This credit voucher is valid for both new and existing customers. Delivery fees may apply. Cannot be used in conjunction with any other offers.
Full T&C's, cut-off times and delivery areas available www.hellofresh.com.au or see gift card terms here : https://www.hellofresh.com.au/about/termsandconditions