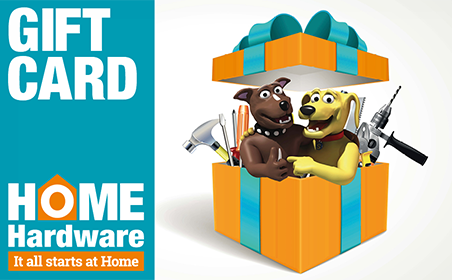 Buy Home Hardware eGift Card
Spend in-store or online
Valid for 36 months
Home Hardware eGift card details
From rugged outdoor gear to top-of-the-line power tools, the Home Hardware Gift Card puts the ultimate fix-it solutions at your fingertips. Whether you're a seasoned handyman or a weekend warrior, Home Hardware has everything you need to tackle renovations, repairs, and beyond. Upgrade your toolbox with the latest gadgets or deck out your garage with the toughest equipment. With the Home Hardware Gift Card, unleash your inner builder and take pride in crafting a space that truly reflects your skill and style!
For card balance enquiries, full Terms and Conditions and a list of participating stores visit www.metcashgiftcards.com.au, call 1300 409 245, or email [email protected].

Key Conditions of Use: Treat this E-Gift voucher as cash – lost or stolen cards will not be refunded or replaced. This card can be used for instore purchases from participating stores. No change will be given but any remaining balance can be applied against future purchases until card expiry. Not to be redeemed as cash, used to pay store credit accounts, or buy another gift card. This card is not reloadable.

IMPORTANT - this card will expire 3 years from the date of issue.
Following the expiry date any unused amount will not be refunded or credited.