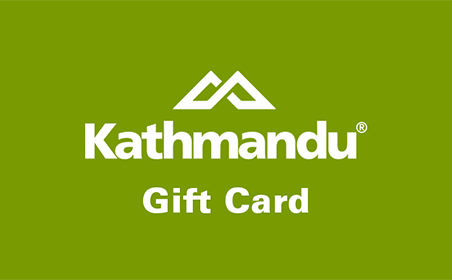 Buy Kathmandu eGift Card
Spend in-store or online
Valid for 36 months
Kathmandu eGift card details
At Kathmandu, we believe adventures are the stuff of life.
We are the leading specialist in designing and providing high quality clothing and equipment for travel and adventure.
Kathmandu is the place to start planning your next great adventure. With a Kathmandu Gift Card, your special someone can choose everything they need for their next holiday. Kathmandu is online and has more than 87 locations throughout Australia, staffed with teams of outdoor experts and enthusiasts who are ready to help you Live the Dream.
Start the journey with a GCX, Kathmandu Gift Card!
Our Gift cards redeemable at all Kathmandu stores and online.
IN STORE INSTRUCTIONS : eGift Cards can be redeemed online (inc. mobile) and at Kathmandu stores in the country of issue.
SALES ASSOCIATE INSTRUCTIONS : Please select eVoucher as tender type in POS.
ON LINE INSTRUCTIONS : To use your eGift Card in store please present to prior to purchase and online enter the card code and PIN at checkout.
Kathmandu eGift Cards are redeemable in store or online. eGift Cards are non-refundable and cannot be exchanged for cash. No change will be given. This card can be redeemed in whole or for part of a payment. Unredeemed values will remain on the card until the card expiry or until redeemed. Kathmandu is not responsible for lost, stolen or damaged eGift Cards.