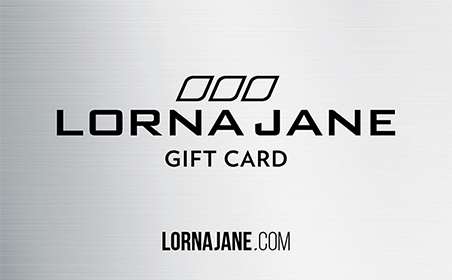 Buy Lorna Jane eGift Card
Spend in-store or online
Valid for 36 months
Lorna Jane eGift card details
Lorna Jane is a brand that lives to inspire women around the world.
Our elevated and performance-focused gym products have been designed to help women feel empowered, supported and beautiful at all times when wearing Lorna Jane activewear. We create to inspire, we create to encourage & we create to live. With innovative design & exclusive fabrication, Lorna Jane activewear has been created for women to emanate wellness & positivity in all aspects of all activities.
Committed to delivering the best womens activewear in Australia, Lorna Jane activewear has been engineered with over 30 years of innovation as well as our extensive fit and fabrication testing. From our team of designers, right through to our dispatch teams, so much love and care goes into our products & what we create.
You may use your Lorna Jane Gift Card to purchase in store and online.
ON LINE INSTRUCTIONS : Select the Payment Method of "Gift Card" at Step 3 of the checkout process.
Enter the barcode number and pin, Select Check Balance and Redeem.
REDEMPTION INFORMATION : Lorna Jane Gift Casrds can be redeemed when presented in-store and also online.
At the point of checkout, select "Gift Card" as the payment tender type. Next, enter in the gift card number and pin into their respective lines. Click "Check Balance" to double check the available balance on the gift card. Enter the amount the customer would like to use towards their purchase into the tender total, and select "Tender" to complete the payment.