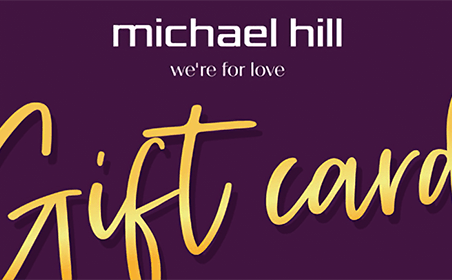 Buy Michael Hill eGift Card
Spend in-store or online
Valid for 36 months
Michael Hill eGift card details
Give the gift of opulence, elegance and style with a Michael Hill Gift Card. We have jewellery for both women and men for any occasion. You can redeem your e-Gift Card both in-store and online. Enjoy that sparkle!
You can redeem your physical Gift Card or an e-Gift Card online by selecting 'REDEEM A GIFT CARD' when you reach the payment stage of the checkout on the website. You will need to enter your full card number and PIN. If you have a physical Gift Card, you can find these details on the back of your card. The Gift Card number will be between 16 and 23 digits long. If you have a card with a 6-digit number – please contact Customer Services, who will confirm your details / complete checks and send you a new replacement e-Gift Card, so you can redeem either online or in-store. If you were emailed an e-Gift Card – you can find the number and PIN in your original email.
Please treat this card like cash. Lost or stolen cards will not be replaced or refunded. Cannot be exchanged for cash or refund. Redeemable in all Michael Hill and Emma & Roe stores. No change will be given, but the balance may be applied to future purchases. This card expires 3 years from the date of issue. Gift card amounts are issued in the currency of the country in which they are purchased (i.e. Gift Cards issued in Australia are in Australian dollars). Gift cards used outside of country of purchase will be converted to local currency.