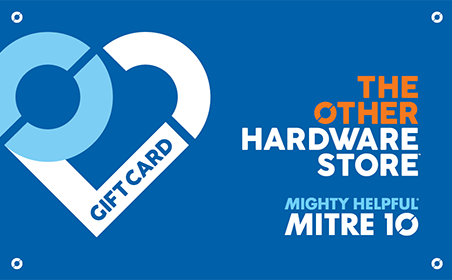 Buy Mitre 10 eGift Card
Spend in-store or online
Valid for 36 months
Mitre 10 eGift card details
Explore a treasure trove of high-quality tools, building materials, and expert advice with a Mitre 10 Gift Card. From crafting custom furniture to beautifying your backyard, this gift card empowers you to turn visions into reality. Whether you're a seasoned pro or just starting your DIY journey, Mitre 10 has your back with an extensive range of products and friendly staff ready to assist. Elevate your DIY game and make your home truly your own with the Mitre 10 Gift Card today!
For card balance enquiries, full Terms and Conditions and a list of participating stores visit www.metcashgiftcards.com.au, call 1300 409 245, or email [email protected].

Key Conditions of Use: Treat this E-Gift voucher as cash – lost or stolen cards will not be refunded or replaced. This card can be used for instore purchases from participating stores. No change will be given but any remaining balance can be applied against future purchases until card expiry. Not to be redeemed as cash, used to pay store credit accounts, or buy another gift card. This card is not reloadable.

IMPORTANT - this card will expire 3 years from the date of issue.
Following the expiry date any unused amount will not be refunded or credited.