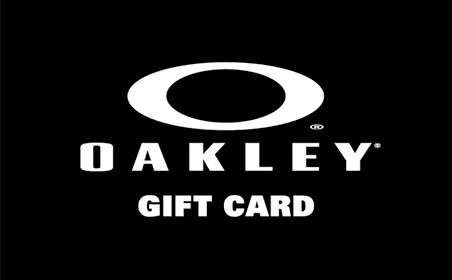 Buy Oakley eGift Card
Spend in-store only.
Valid for 36 months
Oakley eGift card details
For the stylish sports enthusiast, this gift can become so many things! Our lifestyle pieces include sunglasses, sports visors, ski/snowboard goggles, watches, apparel, backpacks, shoes, optical frames and even more accessories! Enjoy your Oakley e-Gift Card!
Customer must present the gift card whether printed or on device at the time of their appointment. The Oakley staff will manually type in the barcode.
PLEASE TREAT THIS GIFT CARD AS CASH. IT CANNOT BE REPLACED IF LOST OR STOLEN. This card will expire 36 months from the date of purchase and is redeemable at participating Oakley Retail stores and Oakley Vault stores in Australia. This card cannot be returned and is not redeemable for cash. No change is given and any balance that remains on the card can only be used in whole or part for future purchases. Any unused balance will not be refunded or credited when the card expires. Available card funds can be verified on request in store via the Digital Glue online portal. If the purchase exceeds the available card balance, you must make up the difference with another payment method. We reserve the right to change any terms contained in these Terms of Use at any time. Oakley Retail has no visibility of your sales history using this e-voucher. Any questions or complaints should be addressed with the originator of the e-voucher.