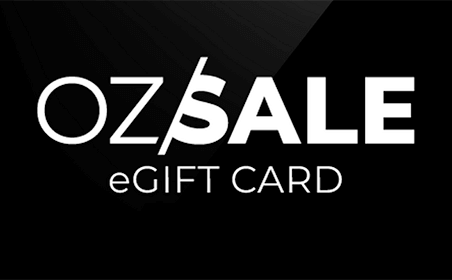 Buy OZSALE eGift Card
Spend online only.
Valid for 36 months
OZSALE eGift card details
Unleash the Bargain Hunter in You with the Oz Sales Gift Card!
Looking for the best deals across an epic range of products? Want to step up your shopping game without breaking the bank? Say hello to the Oz Sales Gift Card, the key to your treasure trove of unbeatable deals and jaw-dropping discounts. From the latest tech gadgets and stylish fashion finds to home essentials and outdoor gear, Oz Sales is your go-to shopping destination for everything fabulous and affordable. Don't just shop - shop smarter, and make every dollar count. This isn't just a gift card; it's your passport to a universe of savings. Get ready, set, and splurge responsibly!
Gift the Oz Sales Gift Card and turn every shopping spree into a spree of discovery and delight!
To use your gift card shop online at ozsale.com.au using an online account :
At checkout, under the payment section tick the box  Promo / Voucher code / Gift card
Add the pin number of your card and select apply
Gift cards can be used for all goods on our website excluding alcohol, and can not be used against the cost of shipping.
Only one gift card can be applied per transaction, but any remaining value can be used in future transactions
When purchasing an OZSALE gift card you agree to the full Terms and Conditions found on our website: ozsale.com.au/gift-card-terms-and-conditions
Gift Cards are valid online when using an OZSALE Account
Only one gift card can be used per transaction
Gift Cards can be used for all goods on our website, excluding alcohol and can not be used for the cost of shipping
Gift cards cannot be exchanged or redeemed for cash