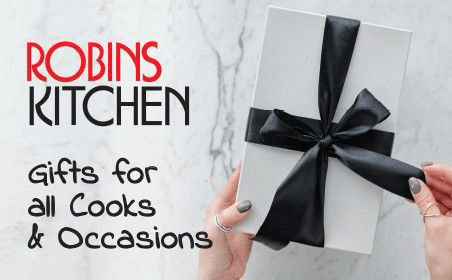 Buy Robins Kitchen eGift Card
Spend in-store or online
Valid for 36 months
Robins Kitchen eGift card details
The Robin's Kitchen Gift Card - your gateway to savvy kitchen shopping! Calling all deal seekers and culinary enthusiasts, this card is your secret ingredient to getting the best bang for your buck. Unlock exclusive discounts on top-notch cookware, appliances, and gadgets that elevate your kitchen game without breaking the bank. From stylish dinnerware to high-performance blenders, Robin's Kitchen has you covered with unbeatable prices. Whether you're a seasoned chef or a beginner home cook, this gift card ensures you cook up a storm while saving big. Treat yourself or surprise a fellow foodie with the Robin's Kitchen Gift Card today and savor the taste of incredible deals!
Making a purchase with your Gift Card online

Select the Products that you wish to purchase online with your Gift Card, follow the prompts and enter your Gift Card number and Access Code at the checkout.
By entering the Gift Card number and Access Code at the checkout, you authorize us to reduce the total value or Residual Value of your Gift Card by the value of the Products purchased. The transaction will be completed when the value has reduced on your Gift Card.

No change will be given for any Residual Value. The Residual Value may only be used for future purchases until the Gift Card expires.
Redeemable at participating stores within country of purchase. Not redeemable for cash or travellers cheques. No change will be given. The card expires at 11:59pm on the expiry date listed below. This gift card is partially redeemable. It is up to the card holder to use the full value within the validity period. Any unused balance will not be refunded or credited when the card expires. Where the cost of the purchase exceeds the available card balance the card holder will be required to make up the difference with an alternative form of payment. This card should be treated like cash. Defaced, mutilated, altered, lost or stolen cards will not be replaced.