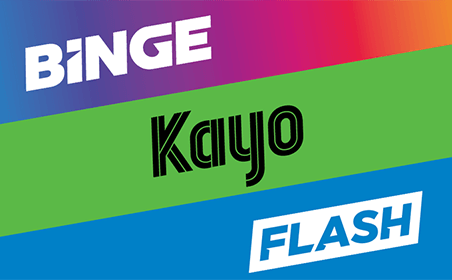 Buy Streamotion eGift Card
Spend online only.
Valid for 36 months
Streamotion eGift card details
Attention! Streamotion eGift Cards can only be used with a new or existing Binge or Kayo subscriptions and not with third-party accounts or subscriptions such as Telstra and iTunes.
Visit help.binge.com.au or help.kayosports.com.au for everything you need to know about gift cards.
Ladies and gents, feast your eyes on the StreamMotion Gift Card - the entertainment equivalent of a perfect one-liner! Movie lovers, TV addicts, and music enthusiasts, this card's got you covered, no joke! It's like a comedic goldmine of blockbuster flicks, binge-worthy shows, and chart-topping tunes. But wait, there's more! Extend the laughter marathon with the Kayo Gift Card for sports enthusiasts, where you can catch all the heart-pounding action of your favorite games. And for the TV series addicts, the Binge Gift Card unlocks a world of thrilling dramas and binge-worthy shows. Top-notch content, delivered with laser precision! So, pull the trigger and get yourself a StreamMotion Gift Card, Kayo Gift Card, or Binge Gift Card, because laughter, drama, and beats await! It's a surefire punchline for an epic entertainment night. And remember, with StreamMotion, Kayo, and Binge, you won't just smile, you'll be roaring with laughter all the way to the grand finale!
NEW OR RETURNING SUBSCRIBERS:
Go to binge.com.au, kayosports.com.au or flashnews.com.au and sign-in if you are a returning Streamotion customer
Select a subscription package and follow instructions
Enter your 30-digit gift card code and 4-digit PIN at Step 3 under 'Add a Gift Card' and select Redeem
Complete sign-up steps
EXISTING SUBSCRIBERS:
Sign-in to your active BINGE, Kayo or Flash account.
Go to My Account
Select Redeem Gift Card
Enter your 30-digit gift card code and 4-digit PIN and select Redeem
Subscription to a Streamotion service and valid Australian credit card required. Gift Card credit can be used for Kayo Sports, BINGE or Flash subscriptions and is automatically applied to whichever Streamotion subscription is billed next. You cannot choose which Streamotion subscription to apply Gift Card credit to. Not available for sign-ups or billing by third parties. After gift card value is exhausted, your credit card will be charged. Card expires 36 months from issue date. For full terms of use, visit https://kayosports.com.au/cardterms.