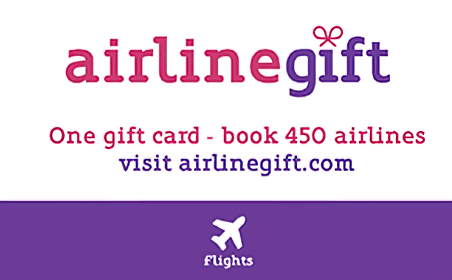 Buy Tripgift Airline eGift Card
---
Details
Use FIRST-ORDER-5 to get 5% off your first purchase
TripGift® Flight offers the worlds best airlines gift card and online travel booking selection with a unique choice of 450 Airlines to book a flight to almost anywhere in the world.
TripGift® Flight offers travel brands such as Delta Airlines, American Airlines, United Airlines, British Airways, Qantas, Air France, KLM, Southwest Airlines, Air Canada, Emirates, Etihad, Cathay Pacific, Singapore Airlines and hundreds of other trusted travel partners.
TripGift® Flight provides a unique feature of online split payments allowing you to use two payment cards to complete your purchase transaction with instant bonus travel rewards.
Bonus* Claim your instant TripGift® travel rewards with every new purchase, only when you play the TripGift® Wheel of Fortune. With Free TripGift® Travel Gift cards and discount voucher codes up for grabs.
Give the gift of Freedom, with a TripGift® Flight gift card from Gift Card Exchange
Redemption Instructions

To redeem your AirlineGift card please visit http://airlinegift.com
Register an Account 
Search and select product
Once you have selected the options that best suit your requirements, enter the details of all persons involved in      the booking
Proceed to the check-out page
Pay by credit card and/or enter your eGift card code into the Redeem eGift card code box and click submit
Proceed to agree to the terms and conditions
Click 'Order Now' to complete your booking and transaction

If you have any queries, please check out our digital self-serve help desk at https://faqs.tripgift.com  
Terms and Conditions
1) Gift cards must be used as a form of payment towards a new reservation made directly with the TripGift website. 
2) Gift cards are valid only in AUD for all products that we have available.
3) Gift cards can only be applied to a NEW individual reservation made in AUD by Australia based (domiciled) residents.
4) Gift cards may be applied to a group reservation where available.
5) Gift cards may not be used towards property credit or to settle any additional unspecified hotel, cruise, airline or car rental charges or deposits.
6) Full payment is required at the time of booking.
7) Gift cards may be used in multiples of two (2) for each transaction any outstanding balance can be paid using Visa, MasterCard and AmEx.
8) All reservations are subject to availability.
9) Once a reservation has been made with a Gift card, normal cancellation policy and cancellation payments shall apply, subject to the terms and conditions of your booking.
10) Changes to reservations may not be permitted.
11) All Gift cards are non-refundable and not replaceable whether lost, stolen or if booking is cancelled.
12) Gift cards shall be void where prohibited, if used for fraudulent or illegal purposes or restricted by law and if sold for cash or other consideration.
13) Each Gift card has a 36 months expiry date, subject to any applicable Country and local State law and any required residual refund value in certain Countries and States.
You may redeem this Gift Card online directly with the TripGift websites. This card is not redeemable for cash except where required by law