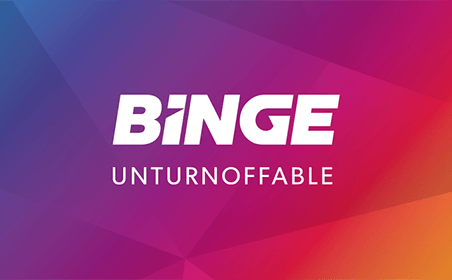 Buy Binge eGift Card
---
Details
Use FIRST-ORDER-5 to get 5% off your first purchase
A Binge Gift Card is your ultimate destination for top rated TV series & Movies.
Binge is a video streaming subscription service available in Australia. The service also offers on demand, live entertainment, lifestyle, reality programming.
ON LINE INSTRUCTIONS : To redeem your Gift Card, you must have an active Binge account. If you are new to Binge, you can sign up for a 14-day free trial and follow these steps to redeem your Gift Card.

1. Login at binge.com.au and visit My Account.
2. Select Gift Card option and follow the prompts to enter the unique 30 digit number below the barcode on your Gift Card and submit.
3. Your Gift Card credit will now be applied to your Streamotion Account.

Note, if you have active subscriptions for both Binge and Kayo Sports under your Streamotion account, your Gift Card credit will be automatically applied to whichever subscription is billed next.
GIft Cards are redeemable for all Streamotion service subscriptions purchased via kayosports.com.au or binge.com.au only (Users 18+). $10/month for Binge Basic, $25/month for Kayo Sports Basic. Free trial for new customers only. Full gift card value is credited at redemption to your Streamotion account and automatically applied to whichever active subscription is billed next. You cannot choose which service to apply the Gift Card credit to. Not available for sign ups or billing via third parties. Protect this card like cash. Lost or stolen cards will not be replaced or refunded. Except where required by law, card is not redeemable for cash; not reloadable or refundable; cannot be resold, exchanged or transferred for value. Card expires 36 months from issue date. Any unused amount after expiry will not be refunded or credited. For full terms of use visit kayosports/cardterms. Cards issued by Streamotion Pty Ltd. ©Streamotion Pty Ltd. All rights reserved.