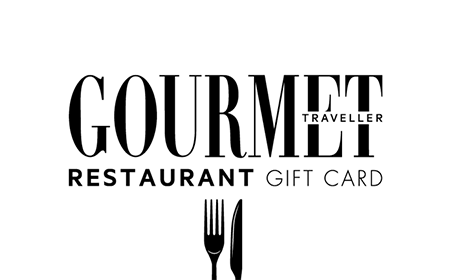 Buy Gourmet Traveller eGift Card
Spend in-store only.
Valid for 36 months
Gourmet Traveller eGift card details
Give the gift of true indulgence, a Gourmet Traveller Gift Card.
A Gourmet Traveller gift card is guaranteed to satisfy taste buds, with the most outstanding food, wine, and restaurant experiences on offer.
The Gourmet Traveller Gift Card allows your giftee to create their own dining adventure.
Simple to give and an absolute treat to receive, the Gift Card Exchange Gourmet Traveller Gift Card is the perfect way to mark any occasion.
IN STORE INSTRUCTIONS : At the time that the restaurant,cafe or bar bill is presented, provide your gift card on your mobile or from a printed version, for full or part payment.
SALES ASSOCIATE INSTRUCTIONS : Either scan the barcode from a printed version or from customer's mobile. Alternatively, manually type in the gift card number into your POS. The gift card can be used for full or partial payment.
REDEMPTION INFORMATION : In-store Only
Present gift card at time of payment. Visit gourmettravellergiftcard.com.au for participating restaurants. Participating restaurants do not necessarily align with listed venues in Gourmet Traveller guides/websites. Full terms & conditions are available: gourmettravellergiftcard.com.au/terms. Card expires 3 years from date of purchase. It is the cardholder's responsibility to check and record this date. Check card balance and expiry at gourmettravellergiftcard.com.au/checkcard. Lost, stolen, damaged or expired cards cannot be replaced, refunded or exchanged for cash. Card has no value until activated at time of purchase.