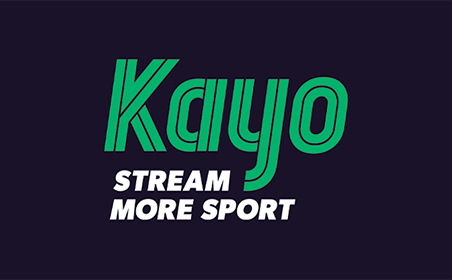 Buy Kayo Sports eGift Card
---
Details
Use FIRST-ORDER-5 to get 5% off your first purchase
Kayo is the proudly Australian game-changing sports streaming service created to give you the ultimate way to get closer to the sports you love.
With Kayo, there's no such thing as watching from the sidelines. Tell us your favourite teams and we'll bring you a never-ending stream of live games and on-demand sports that's guaranteed to get you fired up. But that's just for starters. Kayo also has exclusive features that lets you watch how you want, on all your devices big and small. Get amongst it.
Kayo has subscription options available to cover all sports lovers. Watch on your favourite device at home or on the go. Keep the action right in front of you with multiple games or throw in an extra camera angle. It's more sports than ever, and that's always a good thing.
Kayo eGift cards can only be used with new or existing Kayo accounts (via Streamotion subscription) and not with third-party accounts or subscriptions such as Telstra and iTunes. See link for further details https://help.kayosports.com.au/s/article/Terms-and-Conditions-Giftcards
https://help.kayosports.com.au/s/article/Kayo-Gift-Cards
The entire value of your Gift Card will be applied to your Kayo Sports account on redemption (Gift Card Credit) and no incremental redemption or credit is permitted. Gift Cards are non-refundable, in full or part. If you cancel your Kayo Sports subscription after redeeming a Gift Card but prior to the Gift Card Credit being utilised in full, credit will be held on your account for up to 36 months from the time the Gift Card was redeemed. You can restart your account and use the remaining Gift Card Credit at any time.
Gift Cards cannot be reloaded and are valid for one time use only. You should keep your Gift Card secure and treat it like cash. Gift Cards cannot be replaced or refunded if lost or stolen. Card expires 36 months from issue date. See full terms at www.kayosports.com.au/cardterms